Breezy Point Day School
(215) 752 1987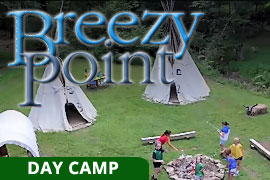 Summer Camp Open House Sunday April 28, 1-3pm
Breezy Point Day Camp has been family owned and operated since 1955. We offer 4, 6 or 8 week programs for campers ages 2 through 14. Campers entering 8th or 9th grade are part of our Counselors In Training Program. Breezy Point's program is an expansive one in which each child is encouraged to explore his or her own creativity and achieve many new skills in a relaxed, friendly and cheerful atmosphere.
Regular camp hours are 9:30 am to 3:45 pm, Monday thru Friday. Extended hours are available from 7:00 am to 6:00 pm at no additional charge. Parents choose what times they will bring and pick-up their camper.
As well as our full or extended day offerings, BP offers a "Mini-Camp", for children ages 2.0 as of June 1st thru those "entering kindergarten" in the fall. The hours are 9:30 to 1:00pm. Parents can select 3 or 5 days.; 4, 6 or 8 weeks.
View Larger Map