Newtown Yardley, PA Summer Camps Guide
A comprehensive guide to all local area camps in Newtown and Yardley including academic camps, day camps, computer and technology camps, sports camps, performing and visual arts camps, special needs camps, and sleep-away camps! Also listed are educational programs, summer activities, and articles addressing first time campers and choosing the right camp for your child.
The Laurel School of Princeton
609-566-6000
Info Sessions: 9/24, 10/30, 11/27
This new school targets the population of early learners who show clear signs of dyslexia. We provide a safe, supportive environment for students. Using expert teachers, we use essential research-based multi-sensory teaching methodologies which include Orton-Gillingham, Wilson Reading System®, and others. A range of creative and assistive technologies are integrated into the curriculum, such as iMovie, GarageBand, Kurzweil, Inspiration@ Software, Dragon Dictation and others. The Newgrange School in Hamilton, NJ (a state-approved school for students with disabilities) and the Newgrange Educational Center in Princeton have provided educational services for dyslexics since 1977. Newgrange's Executive Director, Dr. Gordon Sherman, is internationally recognized for his contributions to the field of brain research, teaching methodologies, and service to the dyslexia community.
609-924-6700
Discover your talents at Summer Programs at Princeton Day School June 11-Aug 10, 2018! We are pleased to offer a wide array of enrichment programs to campers entering grades PreK through 12. From programs in Creative and Culinary Arts to STEM Camps to outdoor Adventures to a host of Athletics Camps, there is truly something for everyone. Pre-camp/extended day care offered. Lunch/snacks provided. All of our program information, including up-to-the-minute course offerings, sessions, times, and costs, as well as registration, is accessible on our website: http://www.pds.org/summer-programs/
215-862-5261
Summer 2018 at Solebury School
Middle & High School Classes - a variety of class offerings ranging from 2-5 weeks. Day Camp - choose from 1-6 weeks. CIT Program - for budding counselors. Swim Lessons - for beginners, ages 3 to 9 years. Swim Club - small community with limited membership. StarCatchers Theater Camp - calling all singers, dancers, and actors! NEW StarCatchers Theater Tech Camp - a hands-on intro to working backstage.
609-882-7900
Notre Dame High School Summer Programs
Summer Programs at Notre Dame High School offer a variety of opportunities, including Academic Courses for credit, Enrichment Classes, Art and Athletic Camps. Located on 100 beautiful acres in Central New Jersey, just across the river from Bucks County, Pennsylvania, Notre Dame High School offers a wireless environment, new science labs, turf playing field with track, newly renovated basketball court and strength and conditioning facilities. Come to Notre Dame High School for your summer programs.
215-579-6689
George School Day Camp 2018 is open to boys and girls aged 4-14. Campers participate in a broad range of activities from swimming to equestrian, archery to the arts, and everything in between. Our program focuses on age-appropriate games and activities to promote friendship and fun by practicing skills like working with others, waiting their turn, and handling success, failure, and frustration in an environment where they are encouraged by a supportive and loving staff. We emphasize the Quaker philosophies of respect for the individual and each person's responsibility to the group. Though we are not a sports camp, campers do participate in a variety of traditional team sports with emphasis on mastery of skills, teamwork, sportsmanship, and fun. Camp meets M - F, 9am to 3pm. For information call 215-579-6689.
Snipes Farm and Education Center
215-295-1138 x102
We offer exciting programs for all ages: Snipes Farm Day Camp for children ages 5-11; the Camp Leadership Program for youth ages 12-14 and the CIT program for teens ages 16-17. Days on our beautiful historic farm begin with fun farm chores: feeding animals, tending the children's garden, harvesting vegetables and cooking a morning snack. Daily activities include: art, science, theater, music and games. Campers explore the woods, creek and fields finding critters, habitats and having adventures! Fruit picking, fort building, painting, juggling and circus arts are some favorite camp activities. The Camp Leadership Program includes a weekly field trip, a weekly chance to plan a menu, harvest and make lunch together, and leadership training to mentor younger campers. Our week-by-week camp season runs from June 25- August 24. For more information or to register: www.snipesfarm.com/camp or call: 215-295-1139 Ext. 106.
609-499-7820
Liberty Lake Day Camp is a transformative experience, teaching life skills to inspire young people to change the world. Campers expand their talents, cultivate friendships, and enjoy the greatest summer experience imaginable! On sixty magnificent shady acres, campers customize their schedules through the "Freedom of Choice" elective program, with over 60 Athletics, Fine/Performing Arts, Swimming, STEM, Boating, Fishing and Adventure activities. Liberty Lake is "all-inclusive" - we offer bus transportation- including a late bus, snacks, catered lunches, and a flexible 2-10 week season. Owner/Director, Andy Pritikin is President of the American Camp Association and considered an innovative thought leader in the industry. Call for a personal appt. Enter to win 2 FREE WEEKS OF CAMP! (winner is announced May 15), and SAVE $200 on tuition fees.
Come ROLL into Summer with us! Our brand new gymnastics school, Dynamix Gymnastics, is offering Summer camp in 2018 for ages 3+! Each day the groups (divided by ability/age) will be instructed on 5-6 different gymnastics events. There will also be games, activities, crafts, water fun and a field trip each week designed around that week's theme, as well as open gym. Give your child a Summer to remember, a Summer of fun-filled activity at Dynamix! AM & PM Care available! Includes pool field trips (Full Day campers only). For more information please see our web site: www.dynamixgymnastics.com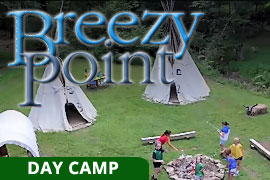 (215) 752 1987
Summer Camp Open House April 29, 1-3pm
Breezy Point Day Camp has been family owned and operated since 1955. We offer 4, 6 or 8 week programs for campers ages 2 through 14. Campers entering 8th or 9th grade are part of our Counselors In Training Program. Breezy Point's program is an expansive one in which each child is encouraged to explore his or her own creativity and achieve many new skills in a relaxed, friendly and cheerful atmosphere.
Regular camp hours are 9:30 am to 3:45 pm, Monday thru Friday. Extended hours are available from 7:00 am to 6:00 pm at no additional charge. Parents choose what times they will bring and pick-up their camper.
As well as our full or extended day offerings, BP offers a "Mini-Camp", for children ages 2.0 as of June 1st thru those "entering kindergarten" in the fall. The hours are 9:30 to 1:00pm. Parents can select 3 or 5 days.; 4, 6 or 8 weeks.
(609) 466-1212
2018 Open House Dates: 5/6, 1-3pm. Located in Hopewell. Tuition includes door-to-door transportation, daily lunch (including cookout on Fridays) and a daily afternoon snack. The sprawling campus, on 225 acres, includes 2 lakes, 4 swimming pools, 4 tennis courts, 4 Ga Ga courts, sports fields, a gymnasium, extensive indoor facilities including creative and performing arts studios, mini-golf course, a low ropes challenge course, a golf driving range, mountain biking trails and more! Since 1976, we have provided just the right combination of fun and challenging activities that create the most exciting day camp around, for little ones, elementary and middle school aged children - and teens.
Ages 3 - 15. Door-to-door bus and lunch included. Generous Sibling Discounts: 2nd child receives 10% discount, 3rd a 25% discount, and the 4th a 50% discount. Pine Cone Campers: lower pricing tier for full time Pre-K - 1st grade campers.