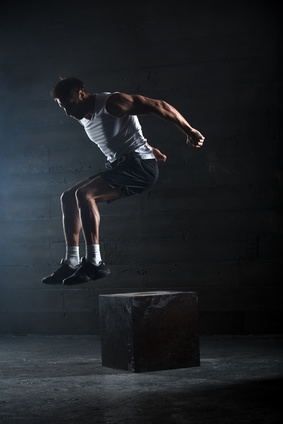 Also known as jump training, plyometric exercises have gained new popularity in recent years and individuals are seeking the assistance of physical therapists in performing the movements. Plyometrics utilize explosive movements to build muscle and increase power. Originally developed as a training technique for Olympic athletes, it's now being used by a wide range of individuals who are in search of attaining a new level of physical prowess.
Those seeking to employ the techniques of plyometrics would do well to seek the experience and expertise of a physical therapist. Many individuals assume that plyometric is no more difficult than the jumping they did as a child, but it places a severe amount of stress on the neuromuscular and musculoskeletal system. It shouldn't be attempted without the guidance of a physical therapist.
The technique was first used in Germany during the 1970s. Athletes in track and field events were the focus of the new training method, but others quickly discovered the benefits across all sports. Dallas Cowboy coach, Tom Landry, was one of the first to employ the method with spectacular effects.
Minor changes have been made to the technique over the years for greater effectiveness, but it still uses dynamic resistance to rapidly stretch and contract muscles. Plyometrics increase strength in the leg muscles and reduces the impact on joints. It's even safe for children and adolescents when performed under the guidance of a physical therapist who can assess the patient's level of ability and create a customized program.